Creamy Tuscan Melon & Basil Soup - CHILLED!
The dog days of summer have only just passed, and Fall is finally (barely) here! The days are getting shorter (at least the number of daylight hours are), and there is definitely a chill in the air first thing in the morning. The kids are back to school and many of us are starting to settle into the routine that will take us into winter and the new year. But wait! It's not quite time yet and we can still squeeze out a few more summertime indulgences. Even though it's technically Fall, there will still be some warm days and maybe a couple more backyard barbecues before it's full-on Fall and the inevitable windfall into the holidays. I say YES, PLEASE to that!
To help remind you that it still feels like summer outside, I give you a delicious new recipe I came up with just the other day—a delicious, satisfying chilled Creamy Tuscan Melon and Basil Soup.
Creamy, savory, sweet, with just the right hint of tang to round things out. (Yes, it is a soup, and yes, Tuscan melons are just a variety of cantaloupe, so you can use either. Tuscan melons look just like a cantaloupe with green ribs running the length of the melon.) I use goat's milk yogurt to give it some heft and creaminess, add some protein, and impart just the right amount of tanginess. You can use regular plain yogurt, or to really up the ante, use Greek yogurt and give the soup a powerful protein punch. However you decide to do it, this soup will be a hit with the entire family...believe me, both my children devour it! Another great thing to remember about this soup is that it is an excellent thing to do with a melon that may be a little over-ripe for your liking to eat on its own. In fact, I have noticed that it actually enhances the flavor of the soup.
Many people don't think of melons as having much to offer in the way of nutrition, but that would be an inaccurate assumption. Cantaloupe is quite high in vitamins C and A, as well as having beneficial amount of vitamins B6, B9 (niacin), potassium, and folic acid, not to mention it is full of gut-healthy fiber. So, I invite you to try out this recipe. It's quick, super simple, and amazingly good! Bon appetit!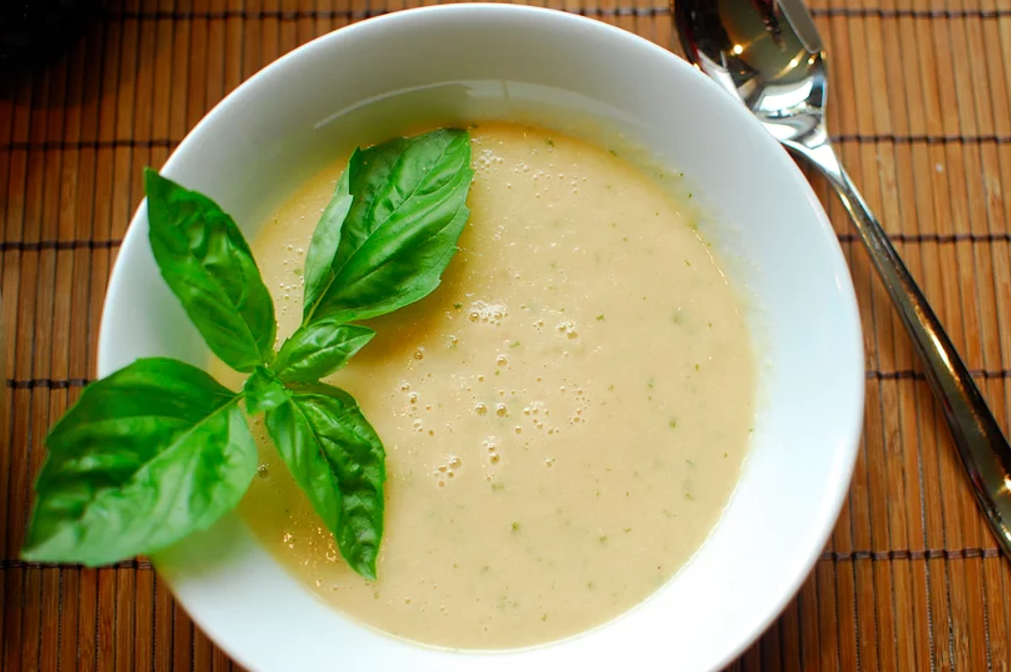 Chilled Tuscan Melon & Basil Soup Recipe
Ingredients:
1 Whole Tuscan Melon or Cantaloupe - place in fridge for several hours to chill
10-12 large basil leaves, or a good, large handful
2/3 cup unfiltered apple juice, organic preferred
1/3 cup lemon juice
1 cup goat's milk yogurt, or plain or Greek yogurt
1 Tbsp. honey
Directions:
Cut open and seed the melon. Then cut into slices, cut cross-wise into chunks and remove from rind by cutting along the rind with knife. Avoid getting the hard, green parts of the rind if possible.
Place the melon and the rest of the ingredients into a high-quality blender (I use a Vita-Mix, but there are several great blenders out there these days). Turn the blender on low, then slowly increase to high, then blend for 45-60 seconds.
Taste and adjust seasoning as needed. Depending on your lemons and basil, you may desire more of them to bring the taste into perfect focus.
That's it! Easy-peasy, super-fast, and sure to tickle the taste-buds of young and old. I hope it becomes a go-to favorite you will look forward to whenever the weather is sunny and warm. Enjoy!